Long before the Nokia 8 was launched, there was a lot of talk of there being two flagship handsets. Some went as far as saying that the Nokia 8 was going to launch in two sizes which didn't happen: we were given one Nokia 8 and the rumour cycle was reset.
Long before the Nokia 8 was launched, there was a lot of talk of there being two flagship handsets. Some went as far as saying that the Nokia 8 was going to launch in two sizes which didn't happen: we were given one Nokia 8 and the rumour cycle was reset.
But as soon as the Nokia 8 had launched, we started to hear that there was another flagship blackberry parts , the fabled Nokia 9.
We've unpicked the rumours to present everything we know about the Nokia 9.
Nokia 9: The name
The Nokia 9 name first appeared early in 2017, where Nokia 8 and Nokia 9 were used interchangeably. At the time, no one knew what number Nokia would be giving to its flagship phone, although the rumours started to favour the Nokia 8, which eventually launched in August 2017.
The Nokia 9 name persisted, however, with a number of rumours pinned to the device that didn't match those of the Nokia 8 device that launched. Some assumed there was a Nokia 8 Plus version, but again, that wasn't the case.
We heard more concrete confirmation of the Nokia 9 name as soon as the Nokia 8 was launched. Nokia 9 exists and it's another flagship level device coming from HMD Global - and plenty of people are talking about it.
Twitter Ads info and privacy
Nokia 9: Design and build
When it comes to what this blackberry replacement parts might look like, we know a lot less. As the Nokia 3, 5, 6 and 8 all offer a similar design, based around a 16:9 display and with either a metal core of metal unibody design, we expect much of the same.
HMD Global sources talking to Russian website 4Pda claim that the Nokia 9 will be more premium than the Nokia 8 - although it's not clear exactly what that might result in. With a phone that's a metal body and mostly free from antenna lines (except for the top and bottom), it might be that the Nokia 9 adds some degree of waterproofing.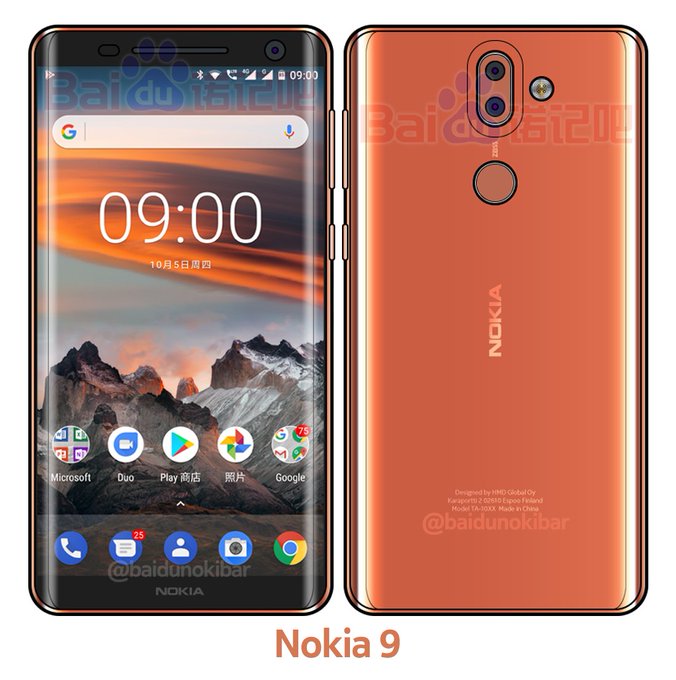 In the early days of Nokia 9 rumours, we'd often see this handset mentioned when there was talk of a 5.5 or 5.7-inch display. The Nokia 8 landed with a 5.3-inch display, so it makes sense to suggest that the Nokia 9 is going to be larger.
This is again something backed up by 4Pda, who say that the Nokia 9 will be larger than the Nokia 8. This was also confirmed by a source who wished to remain anonymous talking directly to us, who said the Nokia 9 would be a larger flagship device.
Rumours suggest a 2560 x 1440 pixel resolution and there was mention of the Nokia 9 having an OLED display. These OLED rumours were early in 2017, however and might be more of a wishlist for a Nokia handset: looking back over the rumours, however, there's a mixture of things that appeared on the Nokia 8 and some that didn't, suggesting they might still appear on Nokia 9.
Nokia 9: Hardware specs
About as soon as the Snapdragon 835 was launched, it was associated with the Nokia flagship. It found its way into the Nokia 8 paired with 4GB RAM, although there's also another version launched with 6GB RAM.
The Qualcomm Snapdragon 835 platform has been the default choice for a number of flagship devices, but the question for Nokia 9 now is whether it launches a device more than 6 months after the first devices with this hardware were announced, or whether it waits for the next generation - around March 2018.
As it is, rumours are saying this phone is going to launch in 2017, suggesting that Snapdragon 835 will be at the heart. There's also talk of 64 or 128GB storage and we'd assume that microSD will be included.
There's been the suggestion of a 3800 battery capacity although that was a long time ago - however the certification of a device in China mentions fast charging - something that Snapdragon 835 would offer and Nokia's lower-tier phones sorely miss.
Nokia 9: Cameras
Nokia confirmed a partnership with Zeiss that came to fruition in the Nokia 8 and we'd expect to see this appearing on the Nokia 9 too. Nokia 8 features a dual camera system pairing an RGB sensor with a monochrome sensor, the aim being to boost picture quality.
The Nokia 8 has pair of 13-megapixel cameras on the rear as well as a 13-megapixel camera on the front. Although the dual camera was designed to be all about quality, the biggest thing HMD Global talked about on the Nokia 8 was the ability to take "bothies", using the front and rear camera at the same time.
Rumours of the Nokia 9 originally pointed to a 22-megapixel rear camera, but we can't see that being legitimate. HMD Global pitched the Nokia 8 partnership with Zeiss as being about top quality and to change the cameras so soon would suggest that this partnership behind the Nokia 8 camera was worthless. With that in mind, we'd expect the same configuration of cameras.
Rumours of Ozo skills for 3D audio capture have long been associated with the Nokia 9 and we'd expect that to appear.
Nokia 9: Release date and price
The price we've seen rumoured so far sits at €749 a fair jump up from the €599 price of the Nokia 8.
As for the Nokia 9 release date, all we have is rumours saying that this phone is going to appear in 2017. We're sure we'll hear more rumours as the weeks roll on.